Description:
Lean Principles focus on increasing efficiency while reducing expenses to deliver the maximum return-on-investment.  Through the introduction of lean, many companies have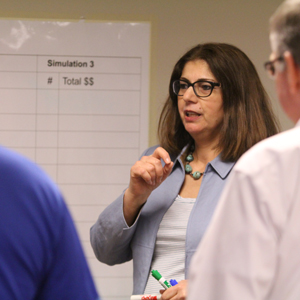 enjoyed lower production costs, higher profits, superior quality, shorter order-to-delivery time, greater flexibility and improved response to changing client demands by introducing lean principles into their organization.
Benefits:
The ability to quickly respond to market demand and prevent over-capacity within your company requires the adoption of lean principles.  Lean techniques allow you to lower costs, increase through-put, improve efficiency, reduce overhead, and eliminate activities that are not value added.
This course is designed to introduce participants to the fundamentals of lean using a hands-on simulation exercise with multiple runs.  Plant managers, operations managers, business owners, shift supervisors, HR professionals, quality control personnel, engineers and anyone wanting an understanding of the use & application of lean principles will benefit from this program.
Outline:
An introduction to Lean
Evolution of Lean
Types of wastes
Value Stream Mapping
Simulation round ONE
First Improvement Phase
Batch size
5S System
Visual controls
Plant layout
Cellular Flow
Simulation round TWO
Second Improvement Phase
Pull system
Kanban
Teamwork
Quality at the source
Total productive maintenance
Simulation round THREE
Management Readiness for Lean
Review & Discuss Principles of Lean
"I wasn't looking forward to this class, but was pleasantly surprised by how much I got out of it.  The interaction with the other students was great.  I was not expecting to be personally engaged on the subject matter and was quite happy with the results.  Having never witnessed Lean Principles actually being used properly in the workforce, it was great having Dr. Sue explain how and why it does and doesn't work."
Wayne "Bob" Brown, AGCO, Hesston, KS
"Although I am not in a position to initiate this for the company, I can start using these concepts within my department.  Dr. Sue is a great instructor. I have had her before when I was studying for my Bachelor's degree from WSU.  Her hands on activities during the class were a great visual aid in learning the different examples of production."
Terry O'Keefe, Redguard, Wichita, KS