Learn how to improve your numbers by understanding your numbers.
Maintaining excess inventory is expensive; however, insufficient inventory can turn away valuable customers and even stop production. This puts your organization in the middle of a dangerous balancing act. 
This program gives you the essentials of inventory management and useful decision making models you can apply to better manage inventory in your organization.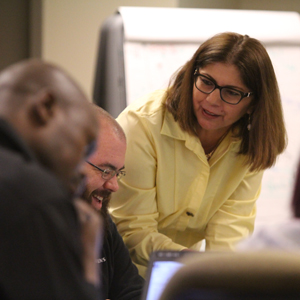 You'll have the opportunity to examine the distinction between independent and dependent demand inventory (MRP – Material Requirements Planning) and will come away from the program equipped with useful methods for controlling inventories in your area.
Managing inventory is part of the larger practice of supply chain management, which has been widely adopted in recent years by companies worldwide. Your company is as strong as the weakest link in its supply chain. Today, competition is supply chain against supply chain, rather than company against company.
In this seminar, you will learn the basics of supply chain and how to mitigate problems that commonly accompany an integrated supply chain. You'll also have the opportunity to see supply chain play out in a simulated environment through the widely recognized MIT "Beer Game" which helps illustrate critical supply chain concepts.
Inventory management
Types of inventory

Inventory cycle

Inventory costs
Inventory models
ABC analysis

EOQ model

MRP model
Supply chain management
Definition

Critical decisions

Bullwhip effect
The MIT Beer Game
Game rules

Play the game

Collect data

Analyze the data

Discuss the results
"The class was very well put together…The program as  whole was great! The format, the staff to greet us, the lunch…I'm excited to attend again.  Dr. Sue was great! She would stop to answer questions, apply the examples to real life, and explain in a way that I could not only remember but use later in my work setting.  The booklet made of PowerPoint slides was perfect!  I was able to take notes and also bring back to work with me to share with my team.  I like the idea of the certificate programs and the huge benefit they can provide for me professionally."
Lacey Holtz, The Coleman Company, Wichita, KS
"The game allows me to see a whole new perspective of how orders(s) can affect the rest of the chain if one person did  poor planning, unless one of the chain planners was able to detect the false hike in the order to keep the inventory well stocked, to cover what is needed rather than the constant backlog, then overages in the end.   Dr. Sue is very approachable and her teaching method is very easy to understand. I really like the fact that we get to take home the flash drive, that way I can review as needed to refresh myself from the lecture."
Dao Tran,  Mid-Continent Instruments And Avionics, Wichita, KS