Take a fresh look at performance and productivity, for yourself and your team. Managing by Strengths can give you an advantage.
Based on the popular StrengthsFinder personality assessment by Tom Rath and Barry Conchie, this workshop illustrates how leaders improve team performance by focusing of the strengths of themselves and their staff members.  Participants will benefit from knowledge of how their personalities impact their leadership and from insights gained through interactive classroom cases.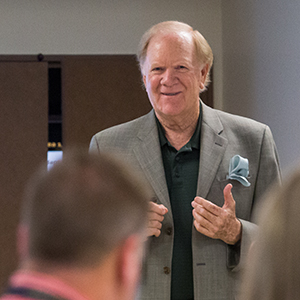 What is Strengths Based Leadership?
Three Leadership Myths

Impact of early childhood experiences

Why weakness-fixing does not work
What Your Personality Says About Your Leadership
What are your five personality strengths?

How your personality strengths impact your leadership

How to maximize your personality themes

How to balance structure and consideration
How to Maximize your Leadership Strengths
What makes up strength?

Four signs of leadership strengths

Examples of strengths statements

Four ways to focus on your strengths

Why staff strength-building is more effective
How to Deal With Weaknesses
How to do performance mapping

What typically happens when you coach a weakness

Four strategies for addressing staff member weaknesses
"Made you think outside of the normal processes dealing with employees. Helps to keep your mind fresh with new ideas and strategic ideas to improve performance and efficiency."
Trey Frederick, Electromech Technologies, Wichita KS
"It was very eye opening in the way that my thinking changed in a short period of time.  I wish that I had this program and instructor many years ago. My potential and those that were under my leadership would have been impacted. I look at them, my two sons and my current co-workers as well. Thank you for giving me knowledge to pass on." 
Michael Sly, Foley Industries, Topeka, KS
"Dr. Graham opened my mind to thinking of better ways to be a leader. These ways broke me of my traditional ways of thinking." 
Bryce Dawson, Electromech Technologies, Wichita, KS
"I was pleasantly surprised – the course offered new ways of looking at a couple of common workplace issues."
Edward Lada, Wichita Grand Opera, Wichita, KS
If it is your role to help people, teams, departments or organizations work efficiently and effectively, understanding the science of Strengths will benefit you.  It doesn't matter the industry or the level in the organization.  Supervisors, Managers, Directors, Executives, Salespeople, Administrative teams, Doctors, Nurses, Accountants, Engineers, Owners, Teachers, Human Resources and any others can benefit from this course.