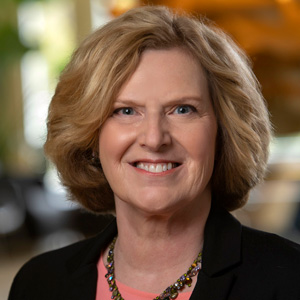 Dotty Harpool
Senior Lecturer, Marketing Department, Wichita State University
Executive Director of Engagement and Prominence, Barton School of Business

MBA Wichita State University
Two time winner of the Barton School of Business Teaching Award
Recipient of the Kansas Board of Regents "Excellence in Teaching Award
2014 Marketer of the Year, Wichita American Marketing Professionals
Dotty Harpool is a Senior Lecturer in the Marketing Department and the Executive Director of Engagement and Prominence in the Barton School of Business at Wichita State University.  At the university she has taught courses in marketing, consumer behavior, promotion management, design thinking and entrepreneurship. Her responsibilities also include overseeing undergraduate recruitment and advising in the Barton School.
Ms. Harpool is a two-time winner of the Barton School of Business Teaching Award and a two time recipient of the WSU Board of Trustees "Excellence in Teaching Award."  In 2014, Ms. Harpool was named "Marketer of the Year" by the Wichita American Marketing Professionals.  She has been awarded a WSU Faculty Recruitment Fellowship and has the designation of WSU Service-Learning Scholar.
She also serves as a marketing consultant for local businesses specializing in qualitative research.
Dotty has developed training programs on topics such as overcoming negativity in the workplace, business communication skills, and emotional intelligence.  Organizations for which she has recently done training programs include Koch Industries, GKN Aerospace, Crossland, Spirit Aerosystems and Textron Aviation.