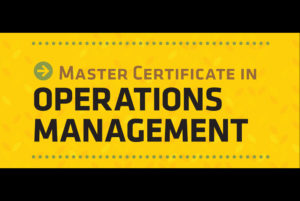 This comprehensive certificate in Operations Management is designed to provide those learning sessions that will help you accomplish a 
solid foundation in operations management.
This certificate will ensure that you have the skills you need to create and support a culture of efficient, quality-based and customer-focused processes. Learning a solid foundation in operations improvement strategy is essential to your success – from the design and creation of an idea to the delivery of services and/or production of finished goods.
To complete a Master Certificate in Operations Management, you must complete seven (7) sessions.
There are 3 sessions that are "Required" and everyone must take them.
The remaining 4 sessions can come from the "Elective" list.
Substitutions are free and must be done prior to the start of the class.
Cancellations or rescheduling must be received in writing and full refunds will be given up to four business days prior to the start of class.
Any cancellation or reschedule submitted with three or less business days notice is subject to a $35 charge on 1 or 2 day classes.  
No refunds after the first day of the class.