Market-Based Management®
A 3-Day Seminar on Monday mornings
8:00 a.m. to 12 noon     $995
March 11,  March 25  and  April 1, 2019
Led by:  Doug Karber, MBA, Director at Invista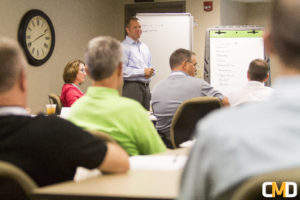 "Market-Based Management is one of the main sources of Koch Industries' success.  We believe that any business can benefit tremendously from these principles."  – Charles G. Koch, Chairman & CEO, Koch Industries.
In this seminar you'll be given a "mental toolkit" of economic concepts that provide powerful insight into business operations.  You will also walk through the elements  of a market system that promotes entrepreneurial behavior and learn how to develop similar elements inside your organization.
The unique concepts and methods detailed in this program have been proven to strengthen profits, spur innovation and drive business success.  You'll learn the key to success by fundamentally changing the way you approach business at every level of your organization.
This workshop combines top-notch teaching with participant exercises, case studies, and numerous examples to make these important concepts practical and useful.  Through the book "Good Profit", by Charles Koch, it introduces the proven method of management applied by America's largest, most successful, privately held corporation, Koch Industries.
Once you pay for the registration, a copy of the book will be sent to you, with reading assignments for the first session.  Register early, if at all possible!  If you have received the book, and cancel your registration, a $50 book fee will be assessed.Don't miss this one-of-a-kind opportunity to learn some of the lessons that have driven one of the most successful companies in U.S. History.
"The decision making framework is a great process for staff/leadership/employees to apply in multiple situations.  It isn't about the framework, i.e., checking the boxes, but the thought process involved with evaluating and making decisions."   Carla DeWalt, Leslie Rudd Investment Co.

"I detailed out over 50 pages of notes.  It really got me thinking in a lot of areas of our company and how we can improve in many of these areas.  Our company's culture is a very similar to Koch's culture and some ideas we can implement immediately.  Others will take us several years."   Barney Lehnherr, Transitions Group Inc.
Outline:
Introduction to MBM and Good Profit
Role of business in society
Economic means vs. Political means
Creative destruction
Experimental discovery
Vision
Vision development
Optimizing resources
Point of view
Virtue and Talents
Virtue vs talent
Virtue/talent matrix
Talent planning
Guiding principles
Knowledge Processes
The value of knowledge
Measures
Benchmarking
The challenge process
Decision Rights
Decision traps
Decision making framework
Roles, responsibilities and expectations
Incentives
Motivating people
Aligning incentives
Marginal contribution

About Koch
Wichita, Kansas-based Koch Industries, Inc. began as Wood River Oil & Refining Co. in 1940.  Koch Industries' estimated worth is $100 billion – making it one of the largest private companies in the world.  with a presence in more than 60 countries, Koch companies employ more than 100,000 people worldwide, with about 60,000 of those in the United States.  From January 2009 to present, Koch companies have earned more than 1,000 awards for safety, environmental excellence, community stewardship, innovation, and customer service.