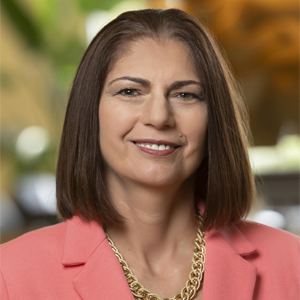 Dr. Sue Abdinnour
Professor, Department of Finance, Real Estate & Decision Sciences
Omer Professorship, Barton School of Business
President, Advanced Operations Consulting & Training
Ph.D. Operations Management, Indiana University
Master of Science Operations Research, Southampton University in England
Operations Management
Supply Chain Management
Business Analytics
Enterprise Resource Planning (ERP)
Dr. Sue Abdinnour is a Professor and holder of the Omer Professorship in the W. Frank Barton School of Business at Wichita State University. She received her Ph.D. in Operations Management from Indiana University, Bloomington and her Master of Science in Operations Research from Southampton University in England.
Her teaching specialties include operations, technology, and decision making. In addition to teaching undergraduate and graduate students, she  conducts workshops and seminars for executives and employees from various organizations focusing on continuous improvement, Six Sigma and lean principles.  Dr. Abdinnour research interests include Operations Analysis and Improvement, Supply Chain Management, Enterprise Resource Planning (ERP), and Technology Use in Organizations.
She has published her research in top tier academic and practitioner journals including Decision Sciences, International Journal of Production Research, Journal of Engineering and Technology Management, and Production and Inventory Management Journal. Dr. Abdinnour has won several awards of excellence for her teaching and research.  Finally, she aided companies with some major projects such as the redesigning of an assembly line and the implementation of new technology.
Dr. Sue On-Site Operations and Analytics sessions bring the learning directly to your team, service division, manufacturing cell or office department.  The learning is enhanced when exercises, models, and games are used that are directly related to your company, your industry and your issues.  Give us a call today, and we will create a path to strengthen your organizations foundation.
Technology Adoption and Business Analytics:
Operations and Supply Chain Management