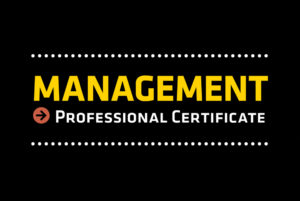 Learning to better manage and oversee people, responsibilities, and resources is exactly what you need to continue your success at work. While earning your certificate you'll lay the fundamental groundwork necessary to manage others and gain the essential skills you need to handle the problems you encounter everyday.  You will not only be developing your ability to take control of your work, but you'll also be building your future by continuing your education and remaining current on the most effective management principles available.  Take hold of your future and enroll today.
To complete a Management Certificate, you must complete a total of 9 days of training.
Choose 4 days from the "Required" list and  5 days from the "Elective" list.
Substitutions are free and must be done prior to the start of the class.
Cancellations or rescheduling must be received in writing and full refunds will be given up to four business days prior to the start of class.
Any cancellation or reschedule submitted with three or less business days notice is subject to a $35 charge on 1 or 2 day classes.  
No refunds after the first day of the class.