CMD can train face-to-face and Zoom 
Customized for your needs.

Delivered directly to your team

Flexible, convenient and easy

Personal and targeted

Led by the best instructors in the 

Midwest

The best value you can find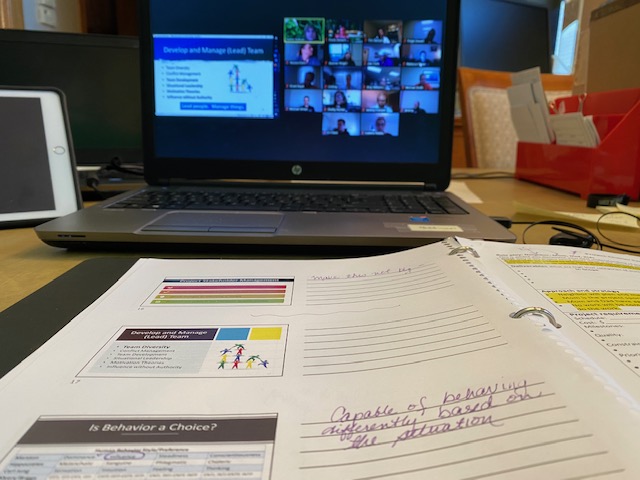 With Zooms can be coordinated in  1-hour, 90 minute, 3 or 4 hour segments.
Full day CMD sessions are 6-hours of training.  With Zoom we can customize the training to be delivered in 2 three-hour days, 3 two-hour days or all 6 hours in one day. Customized to what works for your employees.
Break out room, chats, polls and session pre-work make zooms interactive, enjoyable and great learning experiences
Any CMD training seminar on our calendar can be delivered via Zoom to your team. CMD's expertise is customization. We will work with you to define your needs and create a curriculum that meets those needs.
NEW: Six 1-hour zoom sessions specifically designed for leaders in your organization. 
Essentials Skills of Management & Leadership
Session 1:  How to Transition from Performer to Leader
 How leadership differs from doing

Four rights you give up as a leader

How to lead from the middle

Do employees prefer a boss or a friend?
 Session 2:  What it Takes to Manage Strong Personalities
How to deal with conflicting personalities

Why most personality traits cannot be changed

Five ways to approach conflict

How to handle employees who resist change
Session 3:  How to Confidently Conduct Difficult Conversations 
How listening can help lower the stress level

How to build trust by being radically candid

What is the difference between assertive and aggressive

Three ingredients of a confident communication
 Session 4:  How to Motivate by Focusing on Strengths           
Two powerful motives that drive staff

The secret to employee empowerment

Why most coaching efforts fail

What happens when leaders focus on weaknesses
Session 5:  How to Set Expectations and Hold People Accountable
What is the role of vision and mission?

Four common mistakes in communicating expectations

Three suggestions for setting expectations

Why performance improvement plans seldom work
 Session 6:  What Makes Performance Management Effective?
Why hiring is critical to performance

How to screen applicants effectively

How to make performance evaluations work better

Four suggestions for handling persistently, low performers
Click here for a printed version of the outline:
The most important asset of any organization is the knowledge, skills and abilities of the employees.  Training demonstrates to your employees that you value them and want to improve their personal and professional effectiveness.
It also demonstrates that you are serious about the success of your organization in these tough times. The workforce is anxious and tired. Bolster their talents, and invest in their skills so that your organization grows and survives.
Contact us for a private consultation to accomplish your organizational objectives.
Gerald Graham  at 316.706.8346   gerald.graham@wichita.edu
Paula Seiwert at 316.519.1347  paula.seiwert@wichita.edu