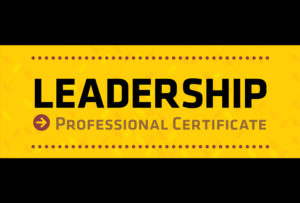 Developing and fine tuning your leadership abilities is essential as you continue to build your influence and success at work.  The CMD Leadership Certificate helps you develop the skills and the educational foundation you're looking for to lead, motivate, and succeed in the workplace.
This program gives you the opportunity to learn proven leadership practices needed to be a strong leaders, build cohesive teams and develop excellence in others.  Invest in tomorrow by preparing today.
To complete a Leadership Certificate, you must complete a total of 9 days of training.
Any CMD class qualifies for this certificate.  We have listed some suggestions below: 
Substitutions are free and must be done prior to the start of the class.
Cancellations or rescheduling must be received in writing and full refunds will be given up to four business days prior to the start of class.
Any cancellation or reschedule submitted with three or less business days notice is subject to a $35 charge on 1 or 2 day classes.  
No refunds after the first day of the class.