Handle the different behaviors
of your team with confidence and skill.
We'll show you how!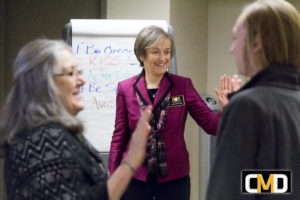 When you think of workplace conflict, what comes to mind?
Arguing?

Compromise?

Hurt feelings?

Avoidance?

Gossiping?

Explosive disputes?

Subtle, long-lasting issues or resentment?

Team members taking ownership for mistakes?
Conflict triggers different behaviors in each person, from destructive to productive responses.  While conflict can be very uncomfortable, it is a natural and inevitable part of relationships.
Because conflict looks different depending on the people and situations involved, there is no one-size fits all answer to making it productive.  Instead the solution starts with you.
This program includes the newest DiSC® assessment tool designed to improve self-awareness around conflict behaviors.  It isn't about conflict resolution rather, it's focused on helping you curb destructive thoughts and behaviors so that conflict can become more productive, improving your workplace results and relationships.
Each participant in this session will complete an Everything DiSC® Productive Conflict assessment prior to attending class, so that the tool can be incorporated into the exercises done in the classroom.
Identify general perceptions and emotions about conflict

Develop a broad conceptual understanding of conflict

Discover your own style in conflict

Learn about other styles in conflict

Learn how automatic thoughts influence destructive behaviors during conflict

Identify and understand destructive conflict behaviors that you use

Recognize automatic thoughts that you typically have during conflict

Practice catching and re-framing automatic thoughts

Learn a way to continue evaluating and improving conflict experiences

Explore strategies that capitalize on productive conflict and its impact on effective teamwork
"Lee was very knowledgeable and made learning about how to deal with conflict enjoyable.  I walked away excited about that I learned and ready to make positive changes in my workplace."
Erin Stillwagon,  Administrative Assistant, Sunflower Electric Power Corporation, Holcomb, Kansas
"I appreciate the personalized report based on my responses prior to the class, made the training far more meaningful to me.  Also great reference materials for me to return to again and again.  Lee was professional and able to bring our comments back into the context of the class and the lesson being covered."
Cory Betz, Manager, Strategic Projects, Sunflower Electric Power Corporation, Hays, Kansas