For those of you that visit the WSU campus on a regular basis, the transformation to an Innovation Campus has been glaringly evident when you travel the east end of campus. The golf course has been transformed into a vast openness as the trees, fairways and berms come out and the sewage, drainage, electrical, and streets go in. It is this transformation, as exciting as it is, that will be causing CMD some inconvenience. But as with all changes, the end result will be worth it!
The parking lot at Woodman will be closed off beginning in June and will reopen in November as some re-configuring will begin.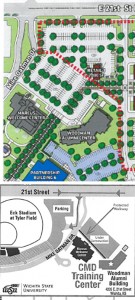 To the right is an artist's rendition of what the parking area around the Woodman Alumni Building and the Marcus Welcome Center will be like AFTER the adjustments. To get to that arrangement, the entire lot will be closed while they tear out, expand, and realign the parking.
The plans call for a protected walkway along the front of the Marcus Welcome Center and down to the front doors of Woodman. What that "protection" is, has not been detailed. We can only hope it is sufficient to keep everyone clean and safe.
So, for all of us – customers, employees and instructors – we will be parking in the lot east of the baseball stadium. This area has acted as an overflow area for us in the past.
The map to the right shows the parking lot next to the stadium. This is the map that as a CMD customer you will be receiving when you register for a class beginning in June – and running at least through November.
The parking situation will prompt one more change for the customers, employees, and instructors. That is the start time of our sessions.
Starting June 1st, in order to get everyone in the building and keep them as protected as possible from the construction work, we will start our classes at 8:00 a.m. and end them at 3:00 p.m. Hopefully, we can limit everyone's exposure to the heavy equipment, dirt and noise.
We want you to know about this change now, because we know. We will keep an eye on the timing, and make sure everyone gets reminders prior to June, and we will definitely let you know should plans be altered or changed. The Innovation Campus is going to provide WSU, our students, and the communicty with some incredible learning experiences. We can't wait to see all that the future holds.
As always, CMD is grateful to you for entrusting us with your training needs. CMD remains the best and most economical training in the state of Kansas. If you have any questions, please don't hesitate to reach out to me.
---
P
aula Seiwert is the Associate Director of the Center for Management Development. She is a graduate of Wichita State University with a BS in Business Administration and an MBA.
paula.seiwert@wichita.edu | cmd.wichita.edu