Individuals with strong Emotional Intelligence skills rise to the top -
in their careers, in their organizations and in life!
Building strong, cohesive working relationships is an important part to maintaining an efficient and productive workplace. Building, strengthening and managing your emotions is an important component in developing better interaction and success on the job. This program will give you tools to enhance the way you work, communicate and build cooperative networks in the workplace.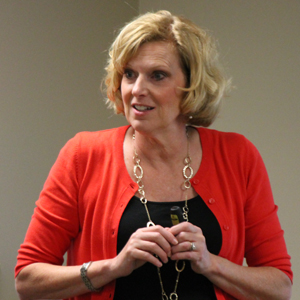 Become aware of the business case for learning and applying emotional intelligence (EQ) at work, understand why today's leaders need to develop this important skill.

Understand the nature of emotional intelligence and how the human brain works. Learn the four dimensions of EQ and the skills associated with them.

Develop Self-Awareness and understand its impact on attitude, fulfillment and personality.

Develop and apply Self-Management skills in ways that boost leadership and accomplishment.

Develop and apply Social Awareness skills.

Develop and apply Relationship Management skills in ways that enhance the ability to lead others, work collaboratively, resolve conflict and achieve dramatic results.

Choose from an assortment of practical emotional intelligence techniques to use in a variety of work-related applications including communication, leadership, management, coaching, working with others, sales, customer service and supervision.
"I think the topic of Emotional Intelligence is one that could be discussed for days.  It seems this is what individuals are lacking the most in the professional world.  Everyone concentrates on what education people have without taking Emotional Intelligence into consideration.  I plan on implementing & practicing all suggestions given in order to develop a higher EI level.  Awesome class!
Gina Manley, Sedgwick County Court of Trustees, Wichita, KS
"The Emotional Intelligence program provided my team with the tools to be successful.  We are a service department working with lots of departments and personality types within our organization so it's critical for our team to be good at emotional intelligence."  
Lynn Deckinger, Director of Marketing & Communications, WSU Foundation, Wichita, KS
Anyone from any level in the organization benefit from understanding the concept of Emotional Intelligence and it's impact on customers, team members, peers, management, other departments, and employees.
Accounting, finance, purchasing, marketing, shipping, inventory workers, customer service representatives, line workers, truck drivers, delivery people, contractors, service technicians, supervisors, managers, directors, and VP's.