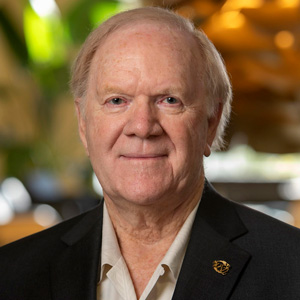 Dr. Gerald Graham
R.P. Clinton Distinguished Professor, Barton School of Business
Interim Director, Center for Management Development
Ph.D. Management, Louisiana State University
BS Business Northwestern State College
Authored 4 textbooks, used in 235 schools nationwide.
Led more than 750,000 participants in 44 different states and every Canadian Providence.
Dr. Graham received his BS Degree in Business from Northwestern State College, Natchitoches, Louisiana in 1959. He received his Ph.D. Degree in Management from Louisiana State University in Baton Rouge, Louisiana in 1967, where his major areas of study were Organizational Behavior and Communication and Economic Theory.
Upon completion of his Ph.D., Dr. Graham joined the faculty at WSU in 1967. He is currently the R.P. Clinton Distinguished Professor of Management at Wichita State University, and has received the Kansas Regents' "Excellence in Teaching Award"
A renowned writer, Dr. Graham has authored four textbooks, titled, "Management: The Individual, The Organization, The Process", "Business: The Process of Enterprise", "Understanding Human Relations", and "The World of Business." His textbooks are used in over 235 schools nationwide. Dr. Graham's latest book is entitled, Lead:  How Effective Leaders Get Things Done.
Known throughout the country for his consulting skills and management workshops to diverse business and professional organizations, Dr. Graham has conducted training and development programs for more than 750,000 participants in 44 different states and in every Canadian Providence. He is currently involved with numerous local, regional, and international firms in a variety of consulting assignments.