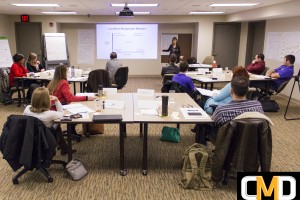 The Center for Management Development (CMD) is an integral part of the outreach mission of the W. Frank Barton School of Business at Wichita State University, and is the largest training organization of its type in Kansas.  For almost 50 years the CMD has provided high-quality educational training programs to support employee development and organizational effectiveness.  The CMD offers open enrollment programs held in our training room on the campus of Wichita State as well as on-site at your organization.
Training is a strategic investment in your employees, who are your biggest asset.  Developing employees is no longer optional, it is a business necessity.  Employee training is a corporate strategy which drives business results and provides organizations with a true competitive advantage.  Our team of instructors will travel locally, regionally and across the United States to deliver customized training to meet individual, group and organizational needs and objectives.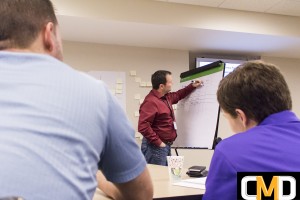 The CMD will help identify effective strategies to develop and enhance employee performance that can effectively return employees to a state of high performance.  From short-term programs designed to help with specific skills to longer-term programs designed to develop multiple competencies, strategic planning or provide tools for succession planning…CMD can help.  Our goal is to create an impact that lasts beyond the training room.
The Center for Management Development wants to partner with you to be your resource to develop programs and customized workforce educational solutions that give your employees an opportunity for professional growth and self-improvement.  Contact us for a private consultation to accomplish your organizational objectives.  Visit our website at https://cmd.wichita.edu/ or contact Pat McLeod or Paula Seiwert at:
Pat.mcleod@wichita.edu or 316-978-5353            Paula.seiwert@wichita.edu or 316-978-5144
---
Pat McLeod is the Director of the Center for Management Development. She's an achiever; ambitious, self-made, workaholic, and down to earth person, with over 20 years of leadership, sales & customer service experience.
pat.mcleod@wichita.edu | cmd.wichita.edu