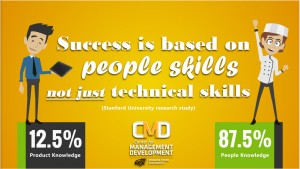 In today's business environment, being able to work on a team is critical to professional success.  One of the key factors in working on a team is attitude. Having a positive attitude does not mean being happy all the time or being naive about challenges.  A positive attitude indicates that you are willing to work hard for the team to be successful.
A Stanford University research study found that success is based on people skills not just technical skills.  A large fraction of these people skills/people knowledge relates to attitudes.  Positive attitudes lead to promotion and job security.  Promotions and job security do not lead to positive attitudes, rather people with positive attitudes get the promotions and job security.  A manager once told the Wichita Eagle newspaper, that when he had to downsize his workforce, he made sure to keep the employees that had positive attitudes and strong people skills.  Those are the employees that he knew he could rely on.
Optimistic people win.  Analyzing your attitude and making changes as necessary are good for your team and also good for you.
Learn more about how your attitude can change everything in the workplace by signing up for Manager's Toolbox. Manager's Toolbox is a seven week certificate program that will give you the crucial tools to help you shift from being an individual contributor to a manager who gets results.
---
Dotty Harpool, MBA is an Instructor in the Marketing Department, Director of the Barton School Advising Center and the Director of Student and Community Initiatives in the Barton School of Business at Wichita State University.