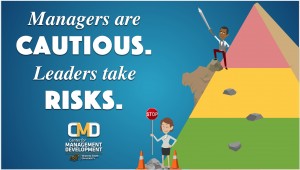 If you promote a person who is a good manager, after a year your current systems and processes will be working very well. If you promote a person who is a good leader, after a year you will have different system and processes.
Managers preserve the status quo; Leaders strive for change.
Managers focus on efficiencies; Leaders focus on effectiveness.
Managers concentrate more on short-term; Leaders think more about long-term.
Managers are cautious; Leaders take risks.
Managers try to make things better; Leaders strive to create better things.
Managers make the trains run on time; Leaders look for alternative transportation systems.
The difference between a manager and a leader has long been a topic of discussion. Typically, there is a greater need for managerial skills at front-line administrative positions and a greater need for leader skills at upper level positions.
---
Dr. Gerald Graham is the R.P. Clinton Distinguished Professor of Management at Wichita State University, and has received the Kansas Regents' "Excellence in Teaching Award." A renowned writer, Dr. Graham has authored four textbooks, titled, "Management: The Individual, The Organization, The Process", "Business: The Process of Enterprise", "Understanding Human Relations", and "The World of Business."